Hearing Assist HA-1800 Black In-the-Ear Completely-in-Canal (CIC) Hearing Aid
$335.00
Hearing Assist HA-1800 Black In-the-Ear Completely-in-Canal (CIC) Hearing Aid
Description
About This Item
NEW from Hearing Assist, America's #1 direct to consumer hearing aid brand, the "Cool-Aid" black in the ear Hearing Aid. We call this the Cool-Aid 1800 because the exact device was formerly sold for $1800/each by another Hearing Aid company that was going out of business, putting American manufacturing jobs at risk. Hearing Assist purchased the inventory, started up the American production lines again, increased the digital signal processor from a two-channel to an eight channel DSP and is offering this incredible Hearing Aid for less than $400! Mass marketing and mass distribution allows us to bring our costs down so that we can offer this great product at a great value to our customers. And of course, like all Hearing Assist products, you get unlimited customer service support from the Hearing Assist team. This in the ear Hearing Aid is tiny and fits inside the ear canal. Because it is black, it blends into the shadow of your ear canal and looks nearly invisible. Works great for those who find discomfort in wearing hearing aids with eyeglasses or masks. The Cool-Aid HA-1800 has crystal clear digital sound amplification provided by medical grade American digital signal processing chips. This Hearing Aid is a universal fit, for left or right ear, and comes with an assortment of ear tips to find the best fit for you. Advanced features such as ambient noise reduction, feedback suppression, noise compression technology and four different preset volume levels. The Cool-Aid comes in black only and requires use of a size 10 hearing aid battery (one 8-pack of Hearing Assist batteries included). No hearing test required. Enjoy up to 70 hours of use from each battery. Ultra-small, discreet, and simple. Press the small button on the end to cycle between four preset volume levels. For mild to moderate hearing loss. Please note the price is for one hearing aid.
HEARING ASSIST HA-1800 Black In-the-Ear Completely-in-Canal (CIC) Hearing Aid:
In ear design: small and discreet
Easy to wear with glasses
Universal Fit: Right or Left Ear
Advanced Background Noise Reduction
8-channel Digital Signal Processor
Up to 70 hours of use from each battery
Comparable to high quality hearing aids for a fraction of the cost
Specifications
| | |
| --- | --- |
| Brand | HEARING ASSIST |
| Manufacturer | Hearing Assist |
| Hearing Aid Type | Hearing Aid Device |
Take an interactive tour
Don't just read about this product's features–see for yourself!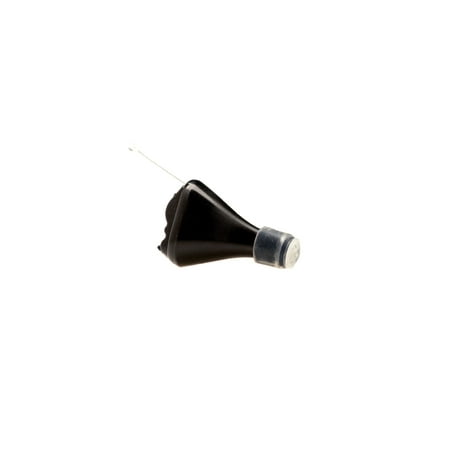 Manuals & Guides
.slider-slide > img {width: 100%; display: block;}
---
Hearing Assist HA-1800 Black In-the-Ear Completely-in-Canal (CIC) Hearing Aid
Redirecting to product on original site in: 5 seconds